In today's rapidly evolving business landscape, data is the new currency. While intuition is a valuable skill, relying solely on it for decision-making can be a risky endeavor. To ensure your business thrives, it is time to embrace data-driven decision-making, leaving behind the days of slow decision processes, delayed forecasts, and outdated insights. These challenges might seem minor in the midst of your hectic schedule, but they can have a significant impact on your cherished customer relationships. Remember, your customers judge you by the quality of your service.
Customer loyalty is just one of the rewards that come with data-driven decision-making. By shifting to this approach, you gain the ability to make rapid, well-informed decisions that place you ahead of your competitors. Let's explore the advantages of this transformation.
Benefits of data-driven decision-making
The McKinsey Effect: According to a McKinsey study, companies that leverage data for their decisions are 23 times more likely to be profitable. Imagine the potential—23 times more revenue is within reach simply by adopting a data-driven approach. But, of course, the benefits go beyond just revenue. Data-driven decisions offer decision-makers like you:
Insights into your organization's

strengths

and

weaknesses

.

Real-time data to

optimize the supply chain

and

prevent stockouts.

Assurance of

data privacy

and compliance with industry standards.

Equipment data that

minimizes downtime

and streamlines

preventive maintenance

.

Make

on-the-spot decisions

using real-time data accessible on your mobile devices.
Do you know this sales secret?
Sales secret: Consider Amazon's incredible sales growth. They harness data analytics to understand their customers' preferences and suggest products based on previous purchases, rather than showing random products. The result? Increased sales and customer satisfaction. Even enjoying a cup of coffee at Starbucks, a daily ritual for many Americans, was redefined through data-driven decisions. In 2008, Starbucks faced over 100 store closures. It was a wake-up call, and they pivoted to data-driven decisions, partnering with a location analytics company—the rest is history.
What's evident from the successes of Amazon and Starbucks is that data-driven decisions drive their accomplishments.
The impact of slow decision-making on your business
Are you a CFO or COO? Chances are you grapple with multiple concerns. From cost management to resource allocation, you may find yourself facing daily challenges that stem from slow decision-making. Sometimes, it's the seemingly small issues, like overspending on fuel or missing out on customers who might soon seek alternatives. The consequences of slow decision-making are profound:
Being late to catch trends, resulting in a lag behind your competition.
Prolonged customer dissatisfaction that could ultimately cost you their loyalty.
Inefficiencies in pricing and cost management affecting your revenue and growth.
Why you need data-driven insight: Here is the proof!
If your business faces these challenges, it is a clear indicator that data-driven decisions are the path to overcoming them. Take the facility maintenance industry as an example. Maintenance can be a complex and costly task, and facility managers often grapple with operational expenses. However, introducing data-driven decision-making through technologies like IoT sensors can be transformative. You can now monitor the condition of your building's systems, such as HVAC and elevators, in real time. Based on this data, you can proactively schedule repairs, reducing maintenance costs and enhancing customer satisfaction—a win-win.
How Data-Driven Decisions Work
To make data-driven decisions, you need two powerful tools: reports and dashboards. So, having a  field service management platform that offers comprehensive reports and user-friendly dashboards for your business. With these reports and comprehensive dashboards, you can effortlessly access data-driven insights, guiding your decisions.
You have two options now: you can invest in a full-fledged field service management software solution that is complete with features like scheduling, dispatch board, contract management, and payments, or just choose a reporting and analytics software product tailored to your specific needs. Zuper provides both options to its customers. 
Zuper's reports and dashboard: Your competitive edge in making data-driven decisions
1. Predicting future revenue
With Zuper's help, you can predict projected revenue by examining past payment details and invoice history, allowing you to plan for the future. Cost management is crucial for revenue growth, and Zuper helps you with just that effortlessly with in-depth reports.
2. Streamlined reports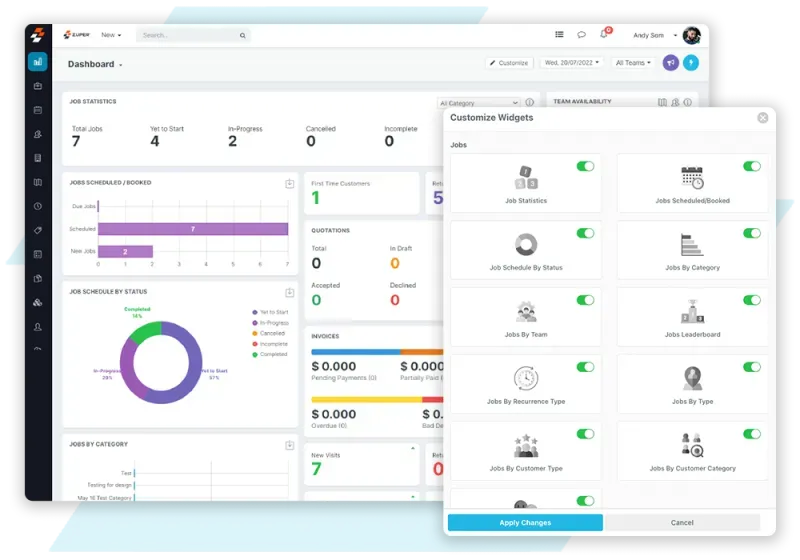 Zuper reporting and analytics give you robust data into your workforce performance, productivity, and profitability. You can access data for any business metric you desire, without feeling overwhelmed. With Zuper's advanced filter options, you can effortlessly dive deep and extract precisely the information you need. What's more, you have the flexibility to create customized reports tailored to different users within your organization, while maintaining control over access at every level. 
3. User-friendly interface
Zuper is designed with your convenience in mind. You can easily customize your dashboard without the need for complex coding. Just drag and drop widgets to create a more tailored and user-friendly experience.
4. Easy-to-use dashboards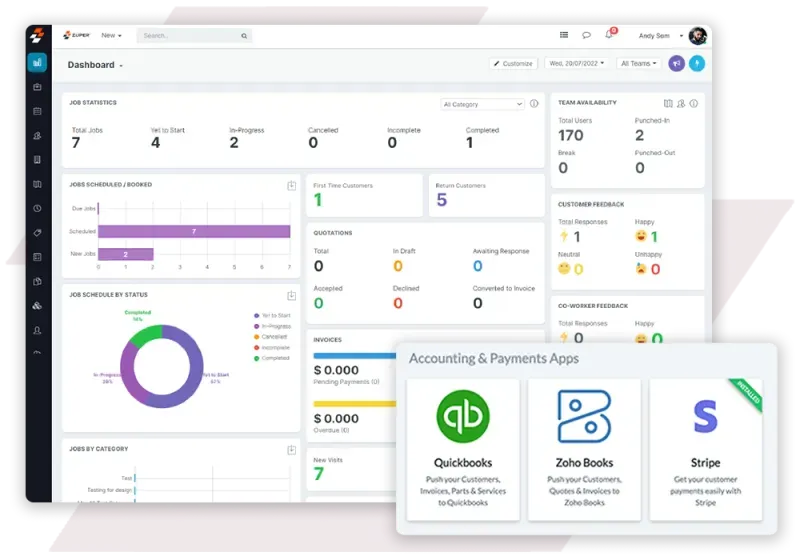 We understand the importance of dashboards because reports alone are not helpful. You need a dashboard that is simple to use at the same time comprehensively displays the reports. Zuper's dashboard is customizable with special features like a date picker and a time picker. Using them, you can have the data on the set date/time on your dashboard.
5. Seamless integrations
Zuper integrates seamlessly with popular business intelligence platforms, including Tableau, Power BI, and Zoho Analytics. We have a wide range of integrations spanning various categories, from consumer financing to CRM and more.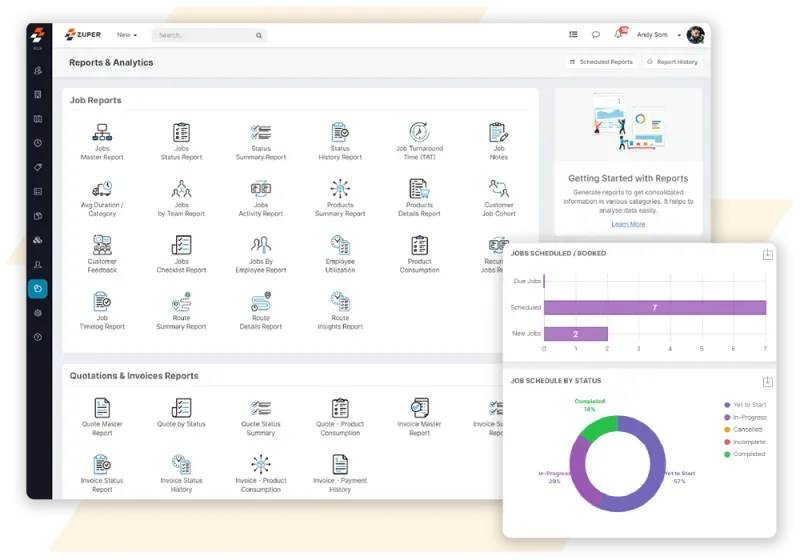 Taking the next steps
Now is the time to make the decision. Do you want your business to compete for the top position in the market or continue to flounder with a slow decision-making process? In your quest to make data-driven decisions, Zuper is a name you should know. Zuper provides reporting and analytics that serve as the cornerstone for data-driven insights. Having them empowers your business to make well-informed decisions, boost profitability, and stay ahead of the competition. 
Don't hesitate any longer—take the leap into data-driven decision-making with Zuper. Book a demo now.
Step up and be a force for good. For every T-shirt you wear, 2700 L of water is consumed. You hold the power to reclaim gallons of water with every garment you wear. Choose minimalism; Save water. Mindful closet for a sustainable future!