Imagine you're a field service manager. You wake up to a flurry of phone calls and emails. Technicians are calling in sick, customers are complaining about missed appointments, and you're struggling to keep everything under your belt—but it seems impossible.
What if you had a powerful tool that could streamline your field operations and make your life easier? That's where field service management (FSM) mobile apps take center stage. FSM mobile apps are designed to help field service businesses manage their technicians more efficiently. They provide a centralized platform to manage scheduled jobs, track technicians' progress, and communicate with technicians.
In this article, we'll discuss how FSM mobile apps can help field service businesses make their technicians' day easier.
How the FSM makes a Field Technician's day easier 
Job review
Traditionally, field technicians start their day with a cumbersome process. They walk into the office to get a stack of paperwork orders that they have no choice but to accept.
But not anymore! With the introduction of FSM apps like Zuper. your technicians get a centralized view of all the jobs assigned to them. This makes it super-easy for them to see what jobs they have, the job details, and the job status.
Let's say a technician has five jobs assigned to them for the day. They can simply open the FSM app and see a list of all of their jobs, including the job details, such as the customer's name, address, and the issue that needs to be resolved. Now technicians can decide whether to accept the job or reject it—helping them to plan their day efficiently and avoid last-minute cancellations.
Real-time job-status update
Once your technicians review a job and decide to accept it, they can simply open the FSM app and update their job status to "on my way" with the estimated time of arrival (ETA) and avoid the hassle of back-and-forth calls.
This helps the customer and the back office team to stay on the same page by keeping both parties informed with real-time updates. This information helps the customer to know when to expect the technician and also helps the back office to track the technician's progress.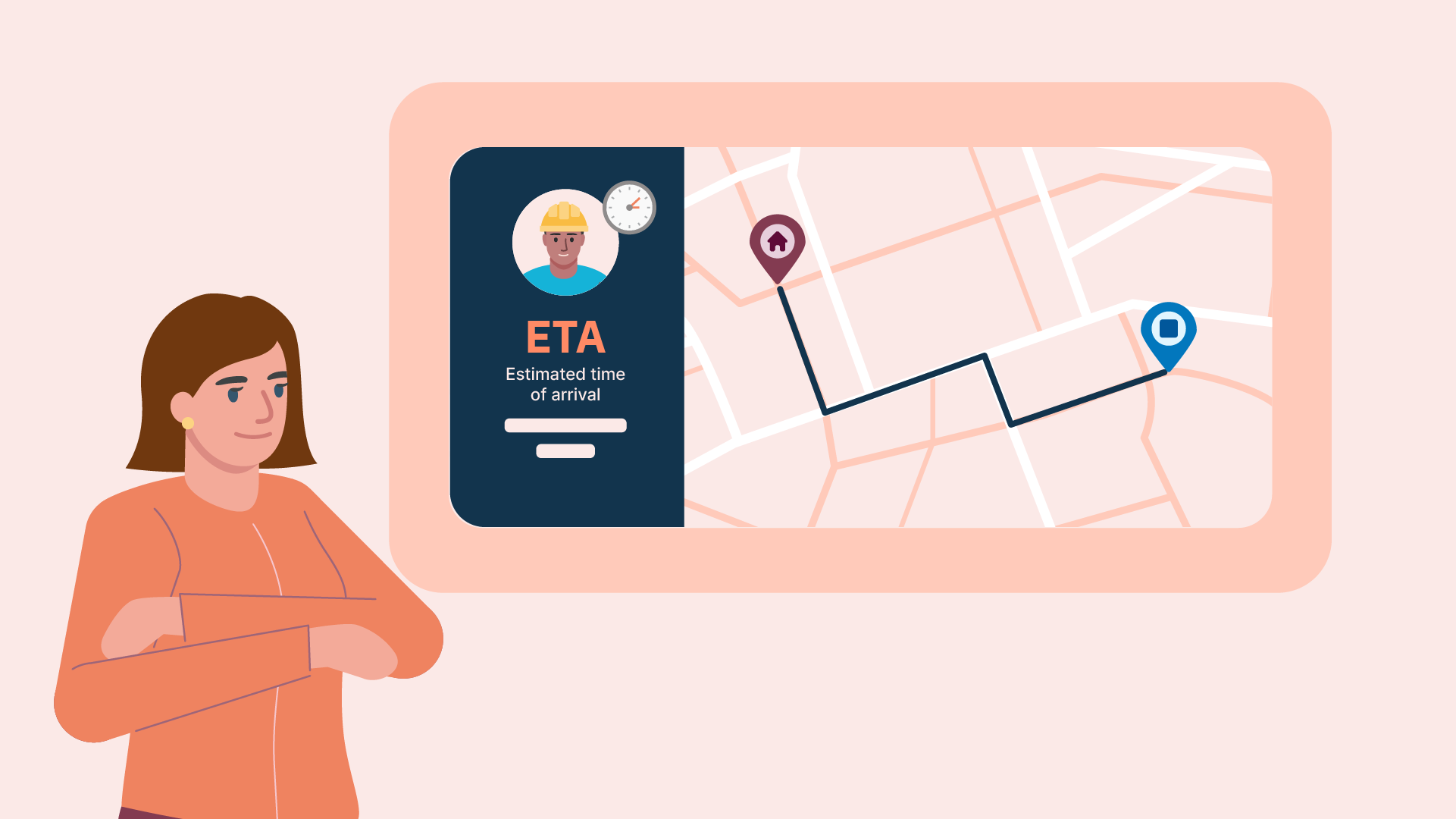 Adding notes
In the midst of a job, your technician realizes that they need an additional part or service. Traditionally, technicians have to call the back office to inform them about the part requirement, wait till they order it, and wait for the next appointment to fix it. This can be frustrating for both the technician and the customer.
Now, they can open the FSM app and add a note to the job stating that they need to order the part. The technician can also attach a picture of the part to the note. This will ensure that the technician does not forget to order the part and that the back office is aware of the service delay. No more scribbled notes on pieces of paper or relying on memory—the FSM app ensures that nothing is overlooked.
Get your quotes instantly approved 
Generating quotes and getting them approved is often a frustrating and time-consuming process. The back office team has to prepare a quote, send it to the customer, and wait for them to review and approve it—leading to delays in starting the job; it can be frustrating for the customer.
With the FSM app, the back office team can swiftly send generated quotes to the technician, who can then present them to the customer on-site. With the customer's digital signature, quotes are approved without delay. This seamless process expedites decision-making and moves the job forward, eliminating paperwork bottlenecks.

Collect customer feedback
As the technician wraps up the job, they update the status to "completed" and log out. But before they bid adieu, there's one more essential task—collecting feedback from the customer. This last step in the process helps provide valuable insights into the quality of service and their customer's experience, helping the field service business to continually improve.
Zuper: The FSM app that helps you streamline your field operations
Zuper is a robust field service management (FSM) app that helps fast-growing field service organizations automate their field operations and improve their customer satisfaction. 
With Zuper, you can:
Schedule jobs:

With Zuper, you can easily schedule jobs and appointments for your field technicians. You can create and manage jobs from anywhere, and your technicians can view their schedules on their mobile devices.
Dispatch technicians:

Zuper helps you to dispatch the right technicians to the right job. You can consider the technician's location, skillset, and availability when dispatching jobs.
Track location live:

Zuper enables you to track the location live of your field technicians in real-time. This helps you to ensure that your technicians are on schedule and that they are able to respond to customer needs promptly.
Collect customer feedback:

Zuper makes it easy to collect customer feedback. You can send customer satisfaction surveys to customers after they have received service from your technicians. This feedback can be used to improve your customer service and to identify areas where you can improve.
If you are looking for a way to streamline your field operations and improve your customer service, then Zuper is the right solution for you. Book a free demo to learn more about Zuper.