Route optimization is the most sought-after feature for landscaping contractors. The more optimized your routes are, the more job sites you can visit in one day. Additionally, optimized routing will minimize back-and-forth travel of your team, saving on fuel costs and unnecessary wear on vehicles. These are but a few of the reasons that route optimization is a must-have feature for lawn care services.
In this comprehensive guide, we will examine how to choose the right route optimization software for your landscaping business and provide valuable tips on how to use it effectively. We will also explore the vital role of GPS tracking, location intelligence, and the environmental impact of routing in the landscaping industry.
Benefits of route optimization for contractors
Starting with the benefits, having route optimization with features like GPS tracking, location intelligence, and real-time monitoring helps landscaping contractors as follows
Improves your employees' productivity with optimized routes, real-time updates, and geofencing features.

Gives clear-cut details of the job and the routes, avoiding unnecessary calls and workload for employees.

Helps you choose the fastest travel time and shortest distance, thereby saving time and fuel costs.

Facilitates on-time arrivals and sends ETA alerts to your customers.

You can close more deals a day, improving the revenue growth of your business.

How to choose route optimization software for your landscaping business
1. Consider the size and complexity of your business
The first step in choosing the right route optimization software is to assess the size and complexity of your landscaping business. Your specific needs will vary depending on whether you run a small lawn care operation or a more extensive landscaping business with multiple crews.
Small lawn care operations are typically more streamlined and have a limited number of employees. For these businesses, a simpler, cost-effective route optimization software is often sufficient. Look for user-friendly options that are easy to implement and do not require extensive training. Likewise, budget constraints are common for smaller operations. Therefore, it is essential to find software that offers a good balance between features and affordability.
Larger landscaping businesses that manage multiple crews and offer a wide range of services require more advanced route optimization software. The software must be capable of handling complex scheduling and crew management. Advanced features can streamline operations and ensure efficient coordination. While these features may come at a higher cost, the return on investment (ROI) often justifies the expense.
2. Determine your budget
Your budget plays a pivotal role in the choice of route optimization software. Striking the right balance between your business's needs and financial constraints is crucial. Here are some key factors to consider when determining your budget:
Cost of software
Subscription fees
ROI assessment
Route optimization software can vary widely in price. It is essential to set a budget that aligns with your financial capabilities. Keep in mind that more advanced features often come with a higher price tag. That said, many route optimization software options are subscription-based, with monthly or annual fees. Consider whether your budget can accommodate these ongoing costs.
Finally, evaluate the potential return on investment (ROI) of the software. A well-chosen software solution should help you save time, reduce fuel costs, and enhance customer satisfaction, ultimately paying for itself over time.

3. Compare with other software features
When selecting route optimization software for your landscaping business, it is essential to evaluate the features offered by different software vendors. Here are some key features to consider:
GPS tracking:

GPS tracking is an indispensable feature that provides real-time location data for your vehicles. It allows you to monitor the progress of your crews, making it easier to make adjustments on the fly.

Location intelligence:

Location intelligence harnesses data and analytics to make informed decisions about route planning. Look for software that can provide insights into optimal routes based on factors like traffic patterns, customer locations, and other variables.

Lawn care route planning:

Ensure that the software is tailored for landscaping and lawn care route planning. It should be capable of accommodating the unique requirements of your business, such as different service locations and equipment needs.

Landscaping crew scheduling:

If your business involves multiple crews, select software that offers crew scheduling capabilities. This feature helps you assign tasks, monitor crew availability, and optimize work allocation.

Analytics, integrations, and mobile applications
Look for features that enhance the efficiency of route optimization. For example, analytics and reports help in making data-driven decisions, assessing the data, and eliminating inefficiencies. In the sameway, look for software that has integrations and mobile applications because mobile applications give more power and visibility to field workers.
4. Read reviews by landscaping contractors
One of the most valuable ways to assess the effectiveness of route optimization software is by reading reviews of the landscaping contractors. These reviews offer insights into how a particular software solution performs in a real-world landscaping business environment. Consider the following when reviewing feedback:
User feedback:

Pay close attention to user feedback, particularly regarding ease of use, reliability, and customer support. Positive user experiences are indicative of a dependable software solution.

Case studies:

Some software vendors provide case studies featuring landscaping businesses that have successfully implemented their solutions. These can serve as valuable reference points.

Industry-specific reviews:

Seek out reviews from landscaping and lawn care professionals specifically. They are likely to highlight software features crucial for your industry.

Ask for recommendations:

Don't hesitate to reach out to fellow landscaping contractors for recommendations. Their insights, based on their own experiences, can be invaluable.
5. Try it before you buy it
Always try using software before you commit to purchasing it. Almost every platform offers a free demo or trial period. Make use of these and see for yourself if the software will work for you and your team. Once you have hands-on experience with the software, you will know if it is easy to use and has the potential to meet your business' specific needs. Grab your opportunity to try a 14-day free trial of Zuper landscaping software.
Plan your routes smarter with Zuper route optimization
Let's say you received multiple lawn maintenance requests from different places such as Dallas, Waco, Georgetown, and Austin. Most of the work is in Dallas, with jobs in areas like Irving, Love Field, and Oak Town. You are now faced with the challenge of efficiently planning your routes. Can you cover all these areas in a single day, or do you need to allocate more time?
With Zuper's route optimization tool, you can figure this out easily. You have two options: you can choose the quickest way to get to each place, or you can pick the route that is shortest in terms of distance. You get to decide, and it is easy to set up routes using either of these options.
Our tool also lets you organize your teams. For example, you could make two routes: one for Dallas and one for the areas from Waco to Austin. Once you have set up the routes, you can assign them to a team or to a single team member. The cool part is that your workers will get all the job information they need, so there is no need for back-and-forth phone calls. They can check job assignments on their phones using the Zuper Mobile App and get the information they need to start working. Plus, you can keep an eye on where they are in real-time with GPS tracking, enabling you to provide customers with updated ETAs.
Now, you might be wondering whether or not setting up these routes is a complex task? It is remarkably easy with our software. You don't need to painstakingly input route details, addresses, or other information. Our filter options streamline the process, requiring just a few clicks. There are two simple ways to create routes: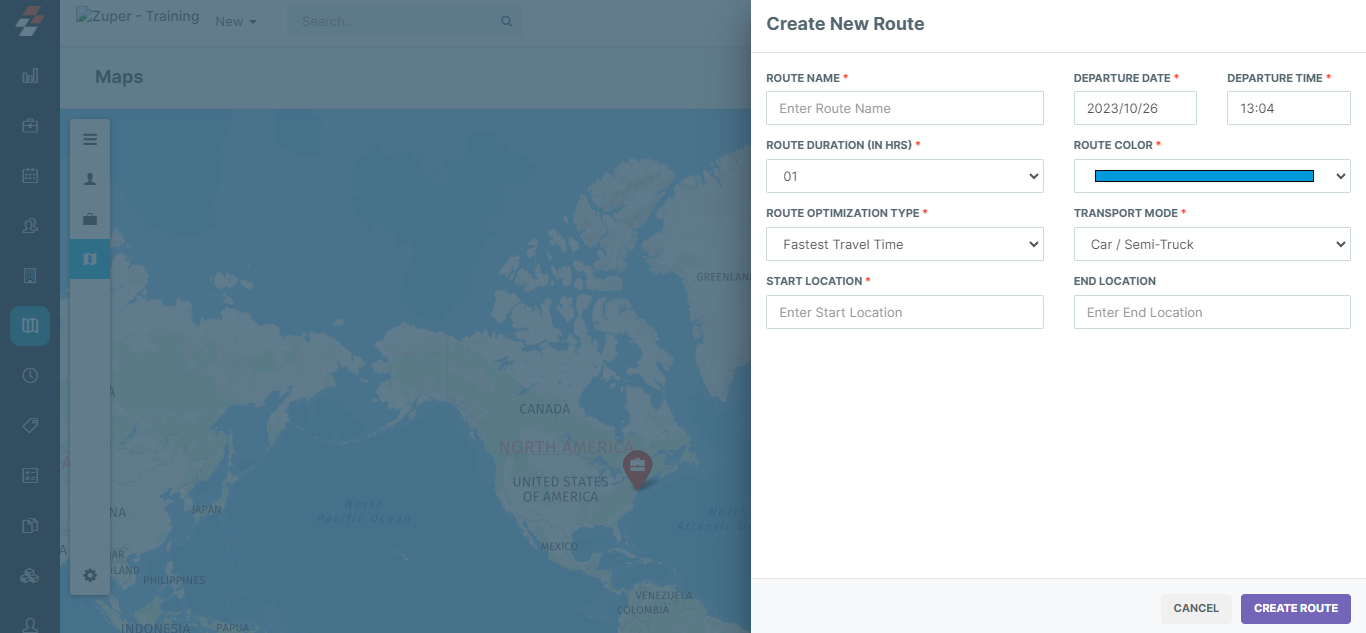 You can manually type and select the start and end destination to create a route. See the above image for reference. The second method is creating routes directly from the map view on the dispatch board. All you have to do is drag and draw the locations that you want to create a route for. Both ways of planning routes is easier for landscaping contractors than having to decide on their own routes.
Tips for using route optimization software effectively
Using route optimization software effectively can significantly enhance your landscaping business. To ensure success, consider the following tips:
Maintain an up-to-date customer database with accurate addresses and contact information.

Update your software regularly, which includes bug fixes and introduce new features.

Provide training to your employees on how to use the route optimization software effectively.

Continuously assess the performance of the software and the efficiency of your routes and make adjustments as needed.
Zuper's route optimization software makes life easier for landscaping pros. It helps plan routes, coordinate teams, and track progress in a way that's user-friendly. Join our mailing list for field service industry updates.
Step up and be a force for good. For every T-shirt you wear, 2700 L of water is consumed. You hold the power to reclaim gallons of water with every garment you wear. Choose minimalism; Save water. Mindful closet for a sustainable future!