Climate change is no longer a buzzword. It is our reality. Believe it or not, every business out there leaves a footprint and contributes to carbon emissions; field service businesses are no exception.
According to a study by the Environmental Protection Agency (EPA), transportation is the leading source of carbon emissions in the United States, accounting for almost 29% of total emissions.; the average field service technician travels over 20,000 miles per year—do the math.
There are a number of ways field service businesses can take part in reducing carbon emissions and making the world a better place to live. In this article, we will examine the importance of reducing carbon footprints and how field service management software helps us move towards sustainability. Let's get started.
Why does your field service business' carbon footprint matter?
The impact of carbon footprints in field service businesses is significant. Field service technicians typically spend a significant amount of time on the road, traveling to and from customer sites. This travel can result in high levels of greenhouse gas emissions, which contribute to climate change.
Reducing carbon emissions is important for a number of reasons. First, it helps to mitigate the effects of climate change. Climate change is a real threat to our future, and it is causing significant problems like extreme weather events and rising sea levels.
Air pollution is a major health problem, and it is responsible for millions of deaths each year. Reducing carbon emissions helps to reduce air pollution and improve the health of people around the world.

How Field Service Management Software Can Reduce Carbon Footprints?
1. Adopting a zero-paper policy across the organization
Leveraging field service management software allows organizations to completely free themselves from paperwork and the headaches that come with it. For instance, let's say you rely on hard copies of work orders and customer service records. Just imagine the difficulty in finding a customer's service record.
Digitalizing documents allows you to store them in the cloud and reduces the chance of loss due to human error. Using different forms of electronic communication makes information exchange easier and ultimately results in higher customer satisfaction.
Empowering field technicians
If you into field service, you know how important is your field team. They are the backbone of your organization. Adopting field service management software eliminates the need for paperwork for your technician who needs to fill out work order details throughout their customer visits. Providing your technicians with the right tools simplifies the way they work, drives engagement, and increases their productivity.
There is no need for printed work orders. Using the field service mobile app, technicians can easily access their jobs and view work orders and customer details all in one place.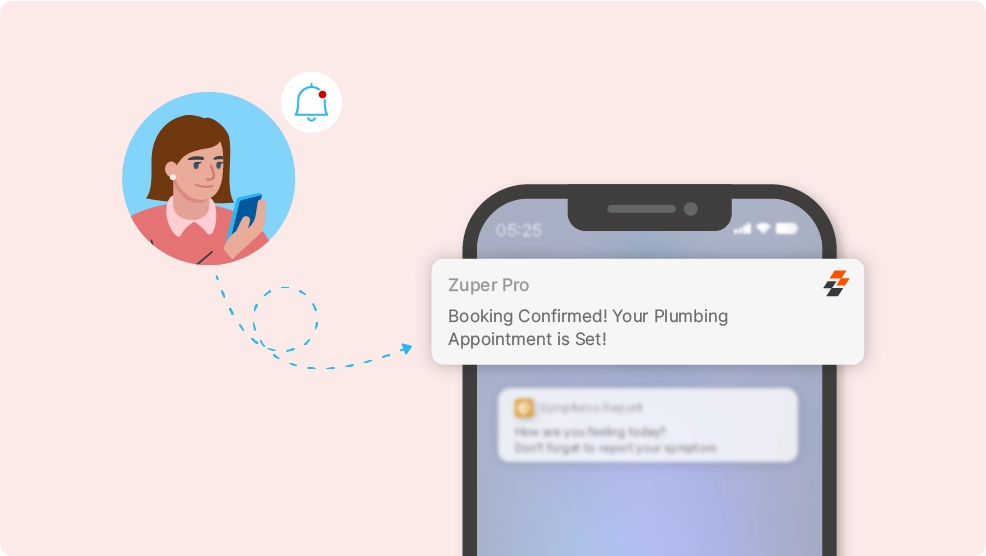 Cloud-based solutions
Broadly speaking, FSM software helps you to adopt a cloud-based solution where every piece of field service data is stored in the cloud. Reducing the risk of data loss and saving tons of paper.
2. Reducing time spent on the road
One of the biggest sources of carbon emissions for any field service business is the time your technicians spend on the road; reducing this time is the easiest way to reduce their footprint. FSM software helps technicians reduce the amount of travel required by optimizing navigation and providing them with the shortest possible route to the customer's destination—reducing fuel consumption and their carbon footprint.
Eliminate first-time-failure
How often do your technicians travel back and forth because their first attempt at a repair or installation failed? Missing equipment, miscommunications, or poor workmanship can extend the appointment. Field service management software helps technicians stay equipped and updated with all the required information, improves the first-time-fix rate, and reduces the need for back-and-forth travel.
Location Intelligence
Field service management involves deploying and managing technicians to various job locations. FSM software enables monitoring field operations across different locations, providing you with a holistic view of all information in a centralized platform, from tracking service requests to locating the nearest technician—allowing you to deploy technicians optimally.
Location intelligence helps companies understand exactly where service appointments take place and calculates the time to reach customer sites—giving your back office team real-time insight to act upon proactively.

Prevent unforeseen breakdowns using asset maintenance
Another crucial step towards reducing carbon footprint is preventing unnecessary asset breakdowns or failures. Field service management solutions help businesses to effectively monitor asset performance and enable them to proactively prevent potential breakdowns by scheduling maintenance in advance.
Using FSM software, you can effectively manage your assets—and schedule recurring maintenance for your machinery.  So you don't have to wait until a breakdown occurs.
Planned preventive maintenance 
Planned preventive maintenance is a scheduled maintenance routine for your assets. It involves scheduling a maintenance task ahead of time to have a technician check on its functioning. FSM software enables you to schedule recurring maintenance tasks well in advance so that your assets are maintained on a schedule.
Consider adopting a corporate social responsibility (CSR) strategy
Reducing your carbon footprint is not only good for the environment but also for your reputation, your stakeholders, and your bottom line. Adopting a CSR policy offers numerous benefits for your organization. When your stakeholder becomes aware of the positive impact your business is making on the environment—your brand image and reputation grows.
Having a CSR policy in place makes hiring technicians easier, and it solidifies the relationship you've built with your customers.
Zuper FSM software is a step towards a sustainable solution
Field service organizations can adopt various strategies to reduce carbon emissions and their overall footprint. Setting paperless policies, reducing the time spent on the road, creating a CSR strategy, and preventive maintenance of assets. These may sound like a lot to take on, but leveraging the right technological solution makes it easy.
Zuper is the most flexible and customizable field service management software available. It offers an array of solutions to manage your day-to-day field operations and reduce your carbon footprint.